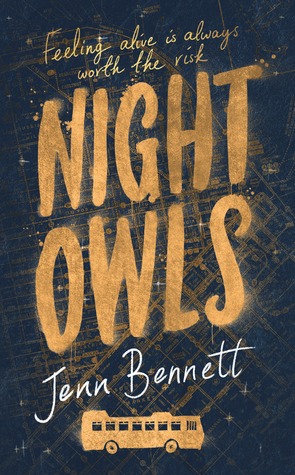 By Jenn Bennett – Night Owls (UK & AU) The Anatomical Shape of a Heart (US).
Published: 13th August 2015.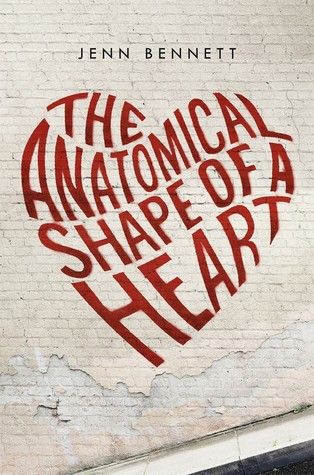 Thanks to Jenn Bennett, Simon & Schuster and NetGalley for giving me a copy in exchange for an honest review.
Feeling alive is always worth the risk.
Meeting Jack on the Owl—San Francisco's night bus—turns Beatrix's world upside down. Jack is charming, wildly attractive…and possibly one of San Francisco's most notorious graffiti artists. Beatrix herself has an incredible artistic talent and is determined to become a medical illustrator. Across midnight buses, blog posts and through her artwork, Beatrix unravels the enigma that is Jack while the two of them fall passionately in love.
But Jack is hiding a piece of himself. On midnight rides and city rooftops, Beatrix begins to see who this enigmatic boy really is.
Will the secrets Jack stubbornly guards come back to haunt him? Or will Bex's own complex family fall apart first?
AWWWWWWWWWW!!! Just give me a second as I sit here and hug my HB pencils.
We follow the likeable Bex as she struggles to do what she feels is right. We see her deify her mother for the first time in her life, for good reasons. We see her fall in love with a broken boy who needs her. Find herself. And confront her absent father.
Both Bex and Jack families, even through from extremely different social standings, have issues. We get to see them all work through these issues and come out the other side.
Things I loved: Both leads were Artsy. Good old teen angst. Divorce and Mental Illness's were addressed. Jack's Adorable law breaking. Sexy Classic Cars. Happy endings for all the main characters that didn't feel over the top or super cheesy, just warm and fuzzy.
Things I didn't: Nothing.
I laughed out loud with this book. At once stage I got antsy, had to put it down and go for a walk because the characters dramas was stressing me out – I just wanted them to be happy! I finished Night Owls and just sat on the lounge with a big smile on my face.
There is adorable first time teen love heavily sprinkled throughout the whole story – Perfection!! I'm putting this on my re-read when needing a pick me up shelf 🙂 Five Stars.
Website | Twitter | Facebook | Goodreads | Tumblr | Newsletter
Purchase Links: