Summer Days & Summer Nights: Twelve Love Stories by Stephanie Perkins, Leigh Bardugo, Francesca Lia Block, Libba Bray, Cassandra Clare, Brandy Colbert, Tim Federle, Lev Grossman, Nina LaCour, Veronica Roth, Jon Skovron, Jennifer E. Smith
Maybe it's the long, lazy days, or maybe it's the heat making everyone a little bit crazy. Whatever the reason, summer is the perfect time for love to bloom.
Summer Days & Summer Nights: Twelve Love Stories
, written by twelve bestselling young adult writers and edited by the international bestselling author Stephanie Perkins, will have you dreaming of sunset strolls by the lake. So set out your beach chair and grab your sunglasses. You have twelve reasons this summer to soak up the sun and fall in love. 
Goodreads View. 
My Thoughts:
 Of course 
I found some stories more enjoyable than others, but that is to be expected in an anthology.
 Over all this book has a good mix of 
contemporary and paranormal stories, with a p
leasantly diverse range of characters.
I would have to say that my favorite story was A Thousand Ways This Could All Go Wrong by Jennifer E. Smith and on it's merit (and that fact that I didn't dislike any of the stories) that I'm giving the anthology a FIVE STAR rating as a whole – yes it was that frigging adorable (and also the majority of the stories ranked high with me).
Head, Scales, Tongue, Tail by Leigh Bardugo – 4/5 Stars. The End of Love by Nina LaCour – 4/5 Stars. Last Stand at the Cinegore by Libba Bray – 2/5 Stars. Sick Pleasure for A and U by Francesca Lia Block – 2/5 Stars. In Ninety Minutes, Turn North by Stephanie Perkins – 4/5 Stars. Souvenirs by Tim Federle – 3/5 Stars. Inertia by Veronica Roth – 5/5 Stars. Love is the Last Resort by Jon Skovron – 3/5 Stars. Good Luck and Farewell by Brandy Colbert – 5/5 Stars. Brand New Attraction by Cassandra Clare – 3/5 Stars. A Thousand Ways This Could All Go Wrong by Jennifer E. Smith – 5/5 Stars. The Map of Tiny Perfect Things by Lev Grossman – 3/5 Stars.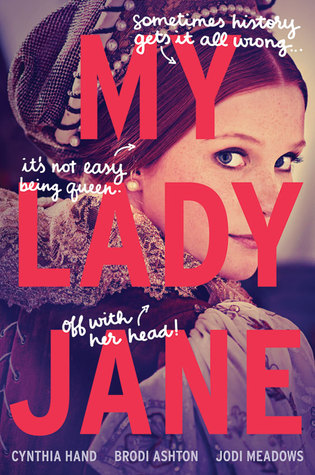 My Lady Jane by Cynthia Hand, Brodi Ashton and Jodi Meadows
The comical, fantastical, romantical, (not) entirely true story of Lady Jane Grey. In My Lady Jane, coauthors Cynthia Hand, Brodi Ashton, and Jodi Meadows have created a one-of-a-kind fantasy in the tradition of The Princess Bride, featuring a reluctant king, an even more reluctant queen, a noble steed, and only a passing resemblance to actual history—because sometimes history needs a little help.
At sixteen, Lady Jane Grey is about to be married off to a stranger and caught up in a conspiracy to rob her cousin, King Edward, of his throne. But those trifling problems aren't for Jane to worry about. Jane is about to become the Queen of England. Goodreads View. 
My Thoughts:
 This was a super fun romp, rewriting a much more enjoyable life story for some rather famous historic figures e.g. Edward VI of England and Lady Jane Grey. I've watched documentaries on Henry VIII of England, Edwards father, so I knew who he was, but 
I actually had to look up Lady Jane Grey. And yes I much prefer the life Hand, Ashton and Meadows have written for her.
I loved the whole the "Verities" verses "Edians" thing, filling the void for the ever present religious drama that's always in the background of historic stories. Having the Edians (shapeshifters) added a comic element to this romantic romp that really made the story shine for me. 
FOUR
 I really liked it
STARS.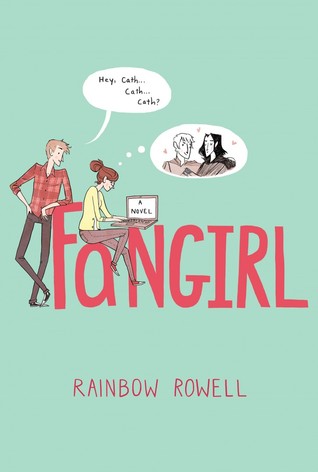 Fangirl by Rainbow Rowell
A coming-of-age tale of fan fiction, family and first love.
Cath is a Simon Snow fan.
Okay, the whole world is a Simon Snow fan…
But for Cath, being a fan is her life—and she's really good at it. She and her twin sister, Wren, ensconced themselves in the Simon Snow series when they were just kids; it's what got them through their mother leaving.
Reading. Rereading. Hanging out in Simon Snow forums, writing Simon Snow fan fiction, dressing up like the characters for every movie premiere.
Cath's sister has mostly grown away from fandom, but Cath can't let go. She doesn't want to.
Now that they're going to college, Wren has told Cath she doesn't want to be roommates. Cath is on her own, completely outside of her comfort zone. She's got a surly roommate with a charming, always-around boyfriend, a fiction-writing professor who thinks fan fiction is the end of the civilized world, a handsome classmate who only wants to talk about words… And she can't stop worrying about her dad, who's loving and fragile and has never really been alone.
For Cath, the question is: Can she do this?
Can she make it without Wren holding her hand? Is she ready to start living her own life? Writing her own stories?
And does she even want to move on if it means leaving Simon Snow behind? Goodreads View.
My Thoughts: Oh how cute this was! Falling in love with Levi was a lovely distraction 😛 I was absorbed by Cath's world and got to take a break from my life for a day. Reading this was like getting a soul warming hug. FOUR I really liked it STARS. Nawww book hugs!