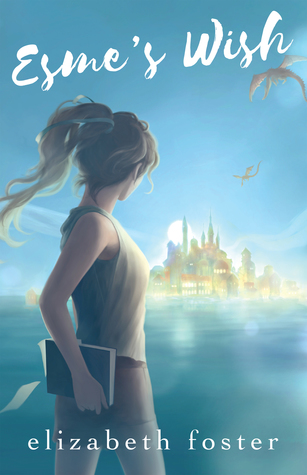 Esme's Wish by Elizabeth Foster
Genre: Young Adult, Fantasy
Publication: 30th October 2017
Publisher: Odyssey Books
Source: Review copy from Author
Thank you Elizabeth
Rating: ♥ ♥ ♥ ♥ ♥
"A fresh new fantasy of an enchanting world." – Wendy Orr,author of Nim's Island and Dragonfly Song.
When fifteen-year-old Esme Silver objects at her father's wedding, her protest is dismissed as the action of a stubborn, selfish teenager. Everyone else has accepted the loss of Esme's mother, Ariane – so why can't she?
But Esme is suspicious. She is sure that others are covering up the real reason for her mother's disappearance – that 'lost at sea' is code for something more terrible, something she has a right to know.
After Esme is accidentally swept into the enchanted world of Aeolia, the truth begins to unfold. With her newfound friends, Daniel and Lillian, Esme retraces her mother's steps in the glittering canal city of Esperance, untangling the threads of Ariane's double life. But the more Esme discovers about her mother, the more she questions whether she really knew her at all.
Esme's Wish is the first book in the Esme series.
Esme's Links: Goodreads | Booktopia | Bookdepository | Amazon AU | Amazon US
Elizabeth's Links: Website | Instagram | Facebook | Twitter | Goodreads | Odyssey Books
---
My Review: The story starts off with a wedding, but unfortunately for Esme it is not a happy one. Esme lost her mother when she was only eight years old and has never been able to move on. Esme never truly believed her mother had disappeared at sea and spurred on by her father moving on, she decides the time has come to go off on her own and discover the truth. What she soon discovers is another world full of magic, myth and secrets.
Back home Esme and her mother were always considered outsiders and as a child Esme struggled to find real friendship. On her journey Esme meets Daniel and Lillian, both offering friendship and whatever help they can. At first she finds it hard to believe that anyone would want to help her, let alone be her friend. She learns to trust in Daniel and Lillian as they join and help her on her journey.
The writing followed well, was easy to read and the story was steadily paced for the most part, kicking up with a action packed fast paced last few chapters. I raced through the last few chapters desperate to know how the story ends – and if that isn't a sign of a good story, then I don't know what is. 
The bad 'guy' was deplorable and the good 'guys' easily likeable. The setting for the story, a mythological wonderland. There were Dragons – always a plus. And they rode them – even more of a plus!
The ending gives us just enough resolution for it to be satisfying, but also leaves enough unanswered that it makes you really want to read the next book.
Thanks for visiting The Adventures of SacaKat.

Until next time, enjoy your shelves :-).