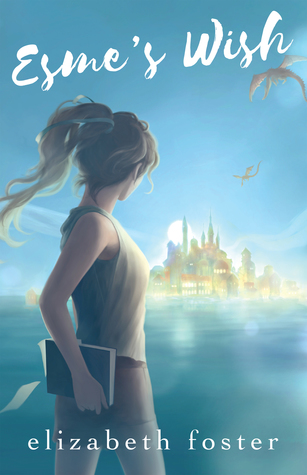 Esme's Wish by Elizabeth Foster
Genre: YA Fantasy
Publication: October 30th 2017
Publisher: Odyssey Books
Paperback: 252 pages
---
This was her last chance.
Her hand twisted high in the air.
When fifteen-year-old Esme Silver objects at her father's wedding, her protest is dismissed as the action of a stubborn, selfish teenager. Everyone else has accepted the loss of Esme's mother – so why can't she?
But Esme is suspicious. She is sure that others are covering up the real reason for her mother's disappearance – that 'lost at sea' is code for something more terrible, something she has a right to know.
After Esme is accidentally swept into the enchanted world of Aeolia, the truth begins to unfold. With her newfound friends, Daniel and Lillian, Esme retraces her mother's steps in the glittering canal city of Esperance, untangling the threads of Ariane's double life. But the more Esme discovers about her mother, the more she questions whether she really knew her at all.
Esme's Wish is the first book in the Esme series.
---
Thank you for inviting me to write a few words about the inspiration behind Esme's Wish!
The idea first popped into my head many years ago, after I finished reading the final book of the Harry Potter series. There was something about HP that reminded me of books I'd read as a child, stories which made me feel like I was sitting by a fireplace sipping hot chocolate. I never wanted that feeling to end and was at a loss! Not knowing the extent of the task I was about to set myself, I decided to try and write a book of my own. My book, of course, is nothing like Harry Potter, apart from the fact that it explores magic and is set in a world not too dissimilar from our own.
Esme's Wish is, for the most part, set in the canal city of Esperance, capital of the parallel realm of Aeolia. I set the story in a glittering canal city because I love Venice and the sea. There's already something magical about winding canals and drifting gondolas, so to infuse such a setting with real magic was something I couldn't pass up. Aeolia has its own unique mythology, but I was also inspired by Greco-Roman myth, especially one of the oldest stories in the world, Homer's Odyssey. Keen-eyed readers will spot plenty of references to the Odyssey in Esme's Wish.
But above all else, my inspiration was the sea. I've always lived near water and I suppose, like many Australians who reside along the coast, the sea is in my blood. The sea has been a muse for so many writers over the ages, but it has gotten a bad rap, in my eyes. It's mostly been grist for stories about grief and tragedy. Yes, the sea is dangerous and mercurial, but it's also a source of life and beauty. Esme's Wish draws a little from both perceptions.
So if you like the ocean, magic, sea dragons, and a pinch of mythology sprinkled throughout, you might also enjoy Esme's Wish.
---
Find out more about Esme's Wish and where to buy it at Elizabeth's website. You can also watch the book trailer on YouTube or read a free preview of the first chapter on Kobo (via the contents page).
Website | Goodreads | Facebook | Kobo
The Sydney launch for Esme's Wish is on November 25 from 3.30 – 5.30pm at North Spoon Café at McMahon's Point.
The launch will be fully catered with canapes, wine, champagne, real coffee and cake!.
The North Spoon Café is a gorgeous café near the harbour, so it should be something special.
If you're interested you need to RSVP's by November 10. Click HERE to RSVP.