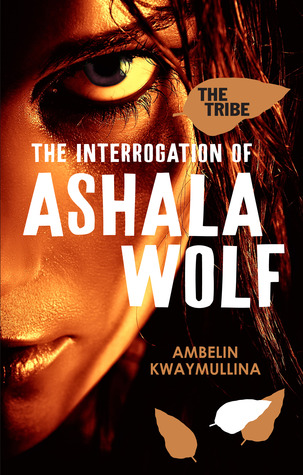 "There will come a day when a thousand Illegals descend on your detention centres. Boomers will breach the walls. Skychangers will send lightning to strike you all down from above, and Rumblers will open the earth to swallow you up from below. . . . And when that day comes, Justin Connor, think of me."
Ashala Wolf has been captured by Chief Administrator Neville Rose. A man who is intent on destroying Ashala's Tribe — the runaway Illegals hiding in the Firstwood. Injured and vulnerable and with her Sleepwalker ability blocked, Ashala is forced to succumb to the machine that will pull secrets from her mind.And right beside her is Justin Connor, her betrayer, watching her every move.
Will the Tribe survive the interrogation of Ashala Wolf?
 * * * * *   MY  THOUGHTS   * * * * *
The last few Dystopian novels I've read have been let downs, so I was holding off starting this series as it is labelled a Dystopian. I saw it at my local library when I was there last and my interest in the Author's Bio caused me to borrow it and boy am I glad I did.
The Interrogation of Ashala Wolf is the first book in The Tribe series by Australian author Ambelin Kwaymullina. Within the first few pages on a coffee fueled Sunday morning this story had reeled me. I didn't put it down until I finished it later that night! Devouring a book in one sitting doesn't happen to me very often.
This story felt fresh and exciting. The story is action packed, high danger with just the right about of young romance. Ashala is amazing, in fact so are all the Tribe members and Ashala's connection to natural world is truly beautiful.
I think the dystopian world, set 300+ years into our future, that Ambelin Kwaymullina has created is brilliant and enthralling. I love the terrifyingly possible way the earth was destroyed by our toxic behaviors and the way humans have evolved because of it. In this future earth there isn't enough humans left to be concerned with the colour of someone skin, but as we humans are horrible creatures who fear anything different from ourselves, the future government hunts down anyone showing any signs of extraordinary abilities; Ashala and her tribe all have these extraordinary abilities.
Thought-out this story we see the world as Ashala sees it. We meet allies and enemies and experience some vivid dreaming scenes and painful memories as she does.
While I was really enjoying the first half of the book, there was a twist half way though that I didn't see coming that for me turned the second half of the book into a frenzy. I was running a mad race with myself to find out how the book ended.
Ambelin Kwaymullina writing flows beautifully and is filled with powerful energy. This book was a real pleasure to read. I'm off to get my hands on book number two!
Ambelin Kwaymullina loves reading sci-fi/fantasy books, and has wanted to write a novel since she was six years old. She comes from the Palyku people of the Pilbara region of Western Australia. When not writing or reading she teaches law, illustrates picture books, and hangs out with her dogs.  Links: Website | Goodreads | Amazon AU | Amazon US | Book Depository