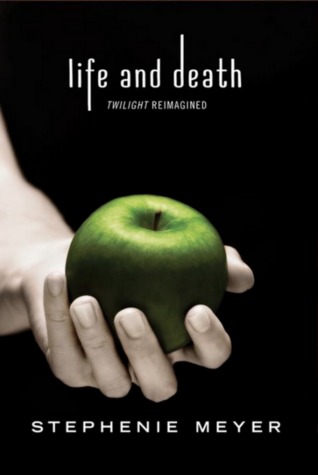 Life and Death: Twilight Reimagined (Twilight #5) by Stephenie Meyer
Published October 6th 2015 by Little, Brown
Celebrate the tenth anniversary of Twilight! This special double-feature book includes the classic novel, Twilight, and a bold and surprising reimagining, Life and Death, by Stephenie Meyer.
Readers will relish experiencing the deeply romantic and extraordinarily suspenseful love story of Bella and Edward through fresh eyes.
Twilight has enraptured millions of readers since its first publication in 2005 and has become a modern classic, redefining genres within young adult literature and inspiring a phenomenon that has had readers yearning for more. The novel was a #1 New York Times bestseller, a #1USA Today bestseller, a Time magazine Best Young Adult Book of All Time, an NPR Best-Ever Teen Novel, and a New York Times Editor's Choice. The Twilight Saga, which also includes New Moon, Eclipse, Breaking Dawn, The Short Second Life of Bree Tanner: An Eclipse Novella, and The Twilight Saga: The Official Illustrated Guide, has sold nearly 155 million copies worldwide.
* * * * * * * * * My Thoughts * * * * * * * * *
Meyer's is getting a lot of flak for this book and lot of people are upset that there is nothing new :-|. The gender rolls are reversed Bella is now Beau and Edward is now Eydyth. Meyer puts in an explanation at the start as to why she went down this path, trying to prove that Bella was never a damsel in distress, that she was a human in distress in an paranormal world.
It was pretty much a carbon copy of twilight, other than a twist with the ballet studio show down. I really enjoyed the alternative ending for Beau, even though it was EXTREMELY RUSHED, but I wouldn't have wanted it to go down that way for Bella.
I would say that while I preferred the original, that's only because when I first read it, those ten years ago, I liked imagining I was Bella :-).
So yes most of the main elements are the same: human meats 'good' vampire, human figures out 'good' vampire is a vampire, human and 'good' vampire fall in love, a 'bad' vampire tires to kill human and all the 'good' vampires go into overdrive to protect human, ordinary human outwits 'good' vampires and heads off to their doom.
Bella goes on to have more human adventures and catastrophes before becoming a 'good' vampire.
Beau comes out of this book as a 'good' vampire and has to face Sam's wolf-pack.
I really don't know how to rate this one, because any rating I give will be because of my the Twilight Saga as a whole. Twilight got me into reading, and why yes now that i'm more well read I can see that it's not the most well written or imaginative story out there, but I could never hate it. it's forever a part of me and I will irrationally love it till the end of time 😛
So in conclusion: if you weren't so keen on Twilight, don't read this you'll hate it. If you were a twi-hard just take it as re-reading of twilight again and you'll be all good.
* * * * * * * * * LINKS * * * * * * * * *
Amazon AU | Booktopia | Book Depository
Meyer's Website