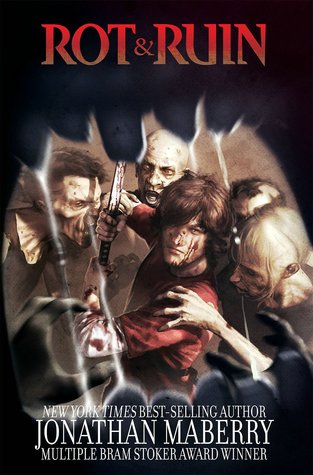 Rot & Ruin, Vol. 1: Warrior Smart by Jonathan Maberry (author) & Tony Vargas (Illustrator)
Graphic Novel /Comic Book – Paperback, 120 pages
Published May 5th 2015 by IDW Publishing (I won a copy through Diamond Distributors)
Brand-new adventures set in the world of Rot & Ruin!
Written by New York Times best-selling author and multiple Bram Stoker award-winner, Jonathan Maberry, this all-new storyline continues events from the award-winning series of novels.
We meet Benny, Nix, Lilah, and Chong as they travel through the Sierra Nevada mountains just one faltering step ahead of zombie hordes and one giant leap behind the plane flying through the sky that set them on their journey of discovery.
I've never read any of the other Rot and Ruin books and to be honest I wouldn't have read this book hadn't I won it – but I'm glad I did as I mostly enjoyed it.
The first page sets up the universe, giving us sufficient background on the characters and their world. By the second page you've got a feeling for these likable kids and the story can take off at a fast pace, which it does really well. I didn't feel I was missing anything by not reading the previous books.
We follow Benny Imura, his girlfriend Nix, his best mate Chong and Lilah the girl they found living out in the forest on her own, as they scrounge for supplies and dodge and slash their way through the hordes of zombies while trying to track down where the plane they saw came from.
The story is pretty standard until they stubble access the creepy farmer John and his baby farm. I'm not going to say anymore then "it" made me really psychotic thriller uncomfortable, but "it" made the story – if that makes sense.
I'm not a big Zombie fan. I love me some evil bad guys, demonic cults and mythological beasts – but I've never been on the Zombie band wagon.
I would say that over all I enjoyed this compendium more than the first eight Walking Dead's combined – sorry that's all I've got to compare it to – I made it through the first eight of The Walking Dead books by Robert Kirkman. I decided to give the Walking Dead a try as I really enjoyed what I'd read of Kirkman's Outsiders (demonic possession) series.
I think zombie loving teens (and any zombie fans in general) would eat up this take on a YA Zombie Apocalypse Graphic Novel – Hey! Zombies just aren't my thing and I'm still giving it a three stars, so that should say something.
Twitter – https://twitter.com/jonathanmaberry
Website – http://www.jonathanmaberry.com/ 
Goodreads – https://www.goodreads.com/author/show/72451.Jonathan_Maberry