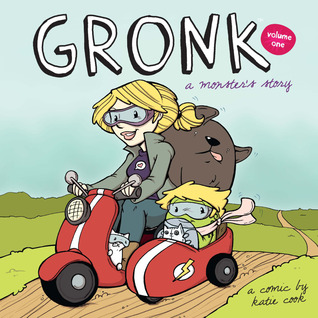 Gronk: A monster's tale is an all-ages weekly comic that follows Gronk, a little green monster that has shunned monster life. she finds a home with Dale, a young nerd-lady who teaches Gronk the ways of her world.
Now the Internet's favorite little green monster is a lovely, full color book! A book that will look great hanging from a magazine rack in your bathroom or as a nice glossy coaster for your favorite frosty beverage.
"Gronk is a young monster who has turned her back on the ways of monster-dom (mostly because she was just too darn adorable to be scary). She finds the human world fascinating and is curious about everything…"
Adorable characters, beautiful bright illustrations, a cute and funny story with some fandom references thrown in for good measure. I really enjoyed reading Gronk; it is a quick fun read that I can see myself reading again. I've even gone and subscribed to Katie's website so I can keep up with Gronk's activities as she tries to make a home with her human, cat and extremely over weight dog.
I won my copy in a bundle (that I am making my way through) from Diamond Comics :-).
Katie cook is a comic book artist and illustrator. She's worked on licenses ranging from star wars to marvel comics to lord of the rings to fraggle rock and more. cartooning is all she's ever wanted to do with her life (besides her ambition to be a muppet or a robot as a child). Katie's art as well as a lengthy history of her work can be found at www.katiecandraw.com Katie's Twitter – https://twitter.com/katiecandraw
I saw these two pictures on Katie's website and just had to share them: Harry Potter, Cute Cartoon Cats AND DR WHO!!! I love this woman!!!