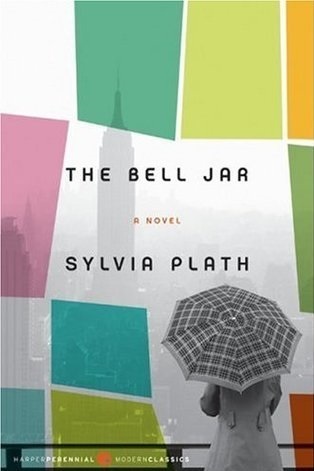 The Bell Jar by Sylvia Plath
Genre: Classics, Feminist Fiction
Publication: 2006 by Harper Perennial Modern Classics (first published January 1963)
Source: Purchased
Add to Goodreads
Rating: ✵✵✵✵✵
Sylvia Plath's shocking, realistic, and intensely emotional novel about a woman falling into the grip of insanity.
Esther Greenwood is brilliant, beautiful, enormously talented, and successful, but slowly going under—maybe for the last time. In her acclaimed and enduring masterwork, Sylvia Plath brilliantly draws the reader into Esther's breakdown with such intensity that her insanity becomes palpably real, even rational—as accessible an experience as going to the movies. A deep penetration into the darkest and most harrowing corners of the human psyche, The Bell Jar is an extraordinary accomplishment and a haunting American classic.
---
Oh, shit balls! should I be worried about how much I saw of myself in Esther Greenwood? a character that Plath based on herself.
Farrrrrrrrrk, this was one of the darkest and most beautiful things I've ever read. At one point I chuckled out loud and thought to myself "I f***ing love her" (the main character), but for the most part it was all too real and even a little disturbing.
I picked this book up, just looking at it as I was rearranging my collection. It's one of those classic must reads that's been on my TBR list forever. I hadn't meant to start reading. I was just reading the introduction about its publication journey (which was fascinating) and then the next thing I know I'm sitting on the lounge and had devoured the first two chapters. I was captivated. I've never read any of Plath's poetry before. I own a collection, same thing, been on my TBR list forever. So her writing was a whole new world to me.
Sometimes while reading this book a feeling of dread would wash over me. Other times I would scoff to myself and think "she's f***ing hilarious". Damn it was compulsive reading. The story, the writing, the words, the girl, sucked me in. What a roller-coaster.
I found myself thinking: I am this woman. She is darkness and she rages and reveals in it. I saw so much of myself in Esther Greenwood. The only other time I've ever really seen myself in a character was Clancy, from Clancy of The Undertow by Christopher Currie – which is a very different book to this one.
A lot of people might find this book disturbing/depressing. But I found a powerful dark beauty to it and it made me feel less alone. It justified the fears and disdain I felt while pregnant with my first born and that I continue to feel in this world as a modern woman.
Thanks for visiting The Adventures of SacaKat.

Until next time, enjoy your shelves :-).