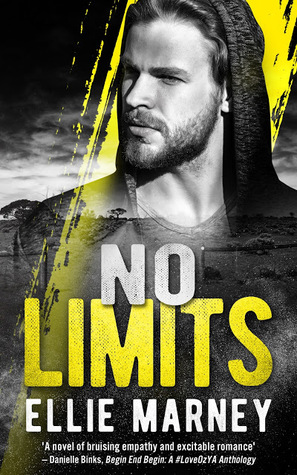 No Limits by Ellie Marney
Genre: Contemporary
Publication: August 14th 2017
Publisher: Self-Published
Source: Review copy from Author
Thanks Ellie, you wonderful woman
Add to Goodreads
Rating: ♥ ♥ ♥ ♥ ♥
Boozer, brawler, ladies' man – nineteen-year-old Harris Derwent is not a good guy.
His one attempt to play the hero – helping out his old flame, Rachel Watts – has landed him in hospital. Now injured, broke, and unemployed, he's stuck back in the country, at his father's mercy. Harris needs to pay off his dad's debts, and fast. But working as a runner for a drug cartel is a dangerous path – especially if Harris agrees to narc…
Eighteen-year-old Amita Blunt is the perfect police sergeant's daughter – practical, trustworthy, and oh-so responsible. Getting involved in Harris's case was never part of the plan. But working at the hospital, she's invisible – which makes her the ideal contact for a boy feeding information back to the police…
Harris and Amie's connection is sizzling hot – but if the cartel finds out about them, things could get downright explosive. Backed into a corner, with everything at stake, it's time for Harris and Amie to find out if love really has no limits…
---
Woah! What an action-packed adventure ride this book was. I loved it. It was fan-frigging-tastic!
Right from the start I was enjoying reading this book; Ellie's writing, the characters and the prospect of romance and drama. The story reeled me in, fast, and I was happy to be hooked.
Harris's dad is an evil arsehole. Had to be said! He has subjected Harris to emotional and physical abuse his whole life, making Harris an emotionally closed off hard arse. We meet Harris at an extreme low point. He has no self-worth and a bit of a death wish. Enter Amie.
Amie's dad is a good man, a man of the law. And Amie has a loving extended family. After the death of her mother Amie can't bear being separated from her remaining family. So, she plans on giving up her dreams of studying photography and visiting far off places to stay and be near them. Little help here please Harris (and Nani).
Harris and Amie are two extremely different people, but the chemistry between them is undeniable right from the start. Each helping the other heal, let go and move on to bigger and better things – oh and there is a whole lot of criminal activity, dangerous dudes and wrongs righted in between.
Meth, not even once mate! Methamphetamine, Crystal Meth, Crank, Speed, Ice, Poor Man's Cocaine etc. whatever the hell you want to call it, it's poisonous s**t. I really liked how Ellie went into detail with her characters drug use without glorifying it. The message of the damage it can do shines through the story, but she's not preachy.  She shows the painful truths, the negative side effects and deadly consequences. She also bothers to show how it feels, and why they do it.
The last eight chapters were a full-on adrenalin rush. I was physically anxious, my stomach was churning as I flew through the words, racing to find out how it all ends. Totally worth it! The ending made my heart sing.
I can see myself reading this book again. I really enjoyed getting to know Harris and Amie intimately, and the rush of experiencing their world.
Harris does feature in the last book of Ellie's Every series, but you in no way need to read it first. Do yourself a favour, go and buy No Limits and fall in love with Ellie's story telling awesomeness .
Find Ellie and her books here: Amazon AU | Amazon US | Booktopia | Angus & Robertson | Website | Twitter | Facebook | Instagram | Goodreads