#LoveOzYABloggers is hosted by #LoveOzYA, a community led organisation dedicated to promoting Australian young adult literature.
The theme for this fortnight is 'Feels'.
Keep up to date with all new Aussie YA releases with their monthly newsletter, or find out what's happening with News and Events, or submit your own!
My brain automatically went; Ok three books. Sidekicks, The simple Gift and Clancy of the Undertow. But as I came to type out this post I realised I'd used The Sidekicks in the first week, so I decided to go with The first Third also by Will Kostakis which I loved just as much. Amusingly in the first week I also used another Steven Herrick book, Slice. Haha can you tell i'm a big fan of both fellas.
I just finished Cinnamon Girl (right before I sat down to type this post) and totally adored it, so I'm chucking it in as a fourth 😛 🙂
So in conclusion, below are four Aussie young adult books that I absolutely adored and gave me "feels" to the point that I actually had to just sit and physically hug the book at the end. They are books I can see myself re-reading multiple times down the track.
The First Third by Will Kostakis 
Life is made up of three parts: in the first third, you're embarrassed by your family; in the second, you make a family of your own; and in the end, you just embarrass the family you've made.
That's how Billy's grandmother explains it, anyway. She's given him her bucket list (cue embarrassment), and now, it's his job to glue their family back together.
No pressure or anything.
Fixing his family's not going to be easy and Billy's not ready for change. But as he soon discovers, the first third has to end some time. And then what?
It's a Greek tragedy waiting to happen.
---
The Simple Gift by Steven Herrick
Published January 4th 2000 [Goodreads]
I'm not proud.
I'm sixteen, and soon
to be homeless.
Weary of his life with his alcoholic, abusive father, sixteen-year-old Billy packs a few belongings and hits the road, hoping for something better than what he left behind. He finds a home in an abandoned freight train outside a small town, where he falls in love with rich, restless Caitlin and befriends a fellow train resident, "Old Bill," who slowly reveals a tragic past. When Billy is given a gift that changes everything, he learns not only to how forge his own path in life, but the real meaning of family.
---
Clancy of the Undertow by Christopher Currie 
Published November 16th 2015 [Goodreads]
We're sitting there with matching milkshakes, Sasha and me, and somehow, things aren't going like I always thought they would. We're face to face under 24-hour fluorescents with the thoroughly unromantic buzz of aircon in our ears and endless flabby wedges of seated trucker's arsecrack as our only visual stimulus.
In a dead-end town like Barwen a girl has only got to be a little different to feel like a freak. And Clancy, a typical sixteen-year-old misfit with a moderately dysfunctional family, a genuine interest in Nature Club and a major crush on the local hot girl, is packing a capital F.
As the summer begins, Clancy's dad is involved in a road smash that kills two local teenagers. While the family is dealing with the reaction of a hostile town, Clancy meets someone who could possibly—at last—become a friend. Not only that, the unattainable Sasha starts to show what may be a romantic interest.
In short, this is the summer when Clancy has to figure out who the hell she is.
---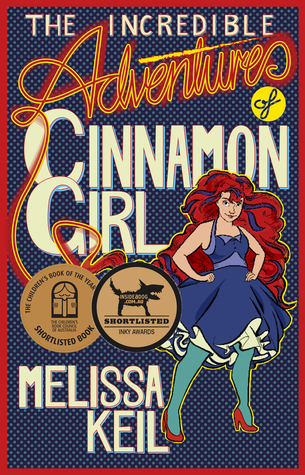 The Incredible Adventures of Cinnamon Girl by Melissa Keil
Alba loves her life just as it is. She loves living behind the bakery, and waking up in a cloud of sugar and cinnamon. She loves drawing comics and watching bad TV with her friends.
The only problem is she's overlooked a few teeny details:
Like, the guy she thought long gone has unexpectedly reappeared.
And the boy who has been her best friend since forever has suddenly gone off the rails.
And even her latest comic-book creation is misbehaving.
Also, the world might be ending – which is proving to be awkward.
As Doomsday enthusiasts flock to idyllic Eden Valley, Alba's life is thrown into chaos. Whatever happens next, it's the end of the world as she knows it. But when it comes to figuring out her heart, Armageddon might turn out to be the least of her problems.