I came across this version of The Goodreads Book Tag over on The Reader Dragon and I thought I'd give it ago since it's been quite a while since I did a book tag.
1. What was the last book you marked as 'read'?
Immortal Writers by Jill Bowers. I finished reading this Friday night and I still haven't gotten my head around what i'm going to write in a review 😦 Why does it feel like it's my fault when I don't "Click" with a book. I had such high hopes for this one.
2. What book are you currently reading?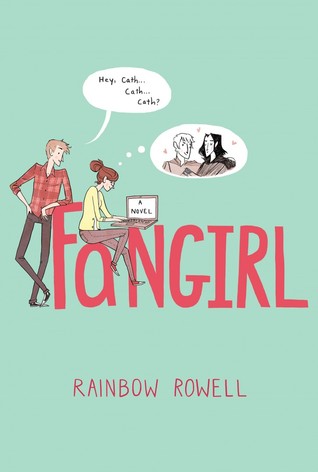 Fangirl by Rainbow Rowell. I figured it was about time I got into another Rowell romp 🙂 and I am thoroughly enjoying it so far.
3. What was the last book you marked as 'to-read'?
The newly released Riven (The Hero Rebellion #2) by Belinda Crawford. I read the first book Hero back in July and loved it. #LoveOzYA
4. What do you plan to read next? 
My Lady Jane by Cynthia Hand, Brodi Ashton & Jodi Meadows.
5. Do you use the star rating system?
6. Are you doing a 2016 reading challenge?
7. Do you have a wishlist?
At the moment not really, not other than adding books to my Goodreads To Read shelf. I want to spend the next 12 months reading the books I already own. Ha until that next super hyped LoveOzYA release comes along that is.
8. What book do you plan to buy next?
See above = "next super hyped LoveOzYA release".  Nar but seriously, whatever pretty little thing catches my eye when I next enter any shop that sells books or I mysteriously end up on Booktopia.com.au or Amazon.com.au. I have no self control when it comes to books. Collecting them has become an addiction in the last few years. I am trying to curb this though, as I've already got plenty of books to read. At least it's better than the smoking habit I had in my late teens to early twenties. Luckily my parents did raise me to be responsible so I've never let my son/dogs/husband go unfed/unclothed etc. I'm finding the library is a good substitute when I need a fix – yep that's what i'll keep telling myself.
9. Who are your favourite authors?
That's a hard one, so i'll try to limit myself to five.
J.K. Rowling, because I will re-read the seven original Harry Potter books every now and then until the day I die.
Rick Riordan, because Percy Jackson, Leo Valdez and Magnus Chase are f'íng adorable and I can't wait for my son to meet them (Harry and the Hogwarts gang as well).
Lucy Maud Montgomery, because Anne Shirley and Gilbert Blythe were my world as a child and they still are today.
C.S. Lewis, because I still want to find a wardrobe to take me to Narnia and if my husband had let me our son Riley's name would have been Edmund!
Brian K. Vaughan, because SAGA. Seriously the comic book series SAGA is brilliant. I love this mans brain and the world he has created with artist Fiona Staples.
I foresee that if Lynette Noni's Medoran Chronicles series keeps up the standard of the early books that it will end up like Harry and be on my periodical re-read list. #LoveOzYA
10. Do you have any favourite quotes? Would you like to share a few?
"Albert knew that one could never be sure about magic, but a lack of certainty is not a good reason to do nothing." Howard L. Anderson, Albert of Adelaide
"In vain have I struggled. It will not do. My feelings will not be repressed. You must allow me to tell you how ardently I admire and love you." Jane Austen, Pride And Prejudice
 "Dumbledore watched her fly away, and as her silvery glow faded he turned back to Snape, and his eyes were full of tears.
"After all this time?"
"Always," said Snape."
11. Have you joined any groups?
Yep, even though I have been rather inactive in them over the past year, oops.
Eight. The standard Read, Currently Reading and Want to Read as well as my own adds; owned-ebook-to-read, owned-treebook-to-read, review-copy-to-read, series-in-progress, and want-to-re-read.
---
I nominate anyone who wants to give this tag a go.
Until next time 🙂 Enjoy your shelves :-).