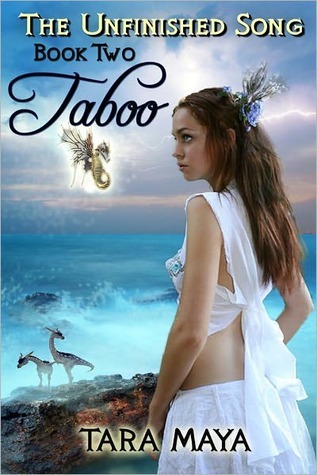 Taboo (The Unfinished Song #2) by Tara Maya
A DEVASTATING SETBACK
Enemy tribesmen attacked during the Initiation. Dindi used the magic of the corn cob doll to protect herself and others but at a terrible price. Now her dreams are in shambles. In despair, she decides to step into the forbidden faery ring, and dance herself to death with the fae. Then she discovers another choice that saves her life…but breaks the ultimate taboo.
A DESPERATE OUTREACH
After being unfairly exiled from his own people, Kavio may have found a new home, but only if he can protect it from another attack by the enemy. He gathers a small group to venture deep into the heart of enemy territory in search of the ultimate prize…peace.
But by the harsh laws of their land, they cannot both break taboos and keep the peace. They will each have to choose, what, or whom, to betray. GOODREADS VIEW.
MY THOUGHTS: Considering it was two years ago that I read the first book, Initiate, I was quite pleased at how quickly the characters and the previous story lines came back to me. I actually think I enjoyed Taboo more than the first and I debated whether to give it a four or five star rating. While this book wasn't mind blowing it was still immensely absorbing and I tore through it captivated. It was full of action and adventure, betrayal and revenge, with further back story and character development. I was tempted to go straight into reading the third book, Sacrifice. "FOUR oh so almost five STARS".
Spark (Spark #1) by Rachael Craw
Evie doesn't have a choice.
One day she's an ordinary seventeen year old, grieving for her mother. The next, she's a Shield, the result of a decades-old experiment gone wrong, bound by DNA to defend her best friend from an unknown killer.
The threat could come at home, at school, anywhere. All Evie knows is that it will be a fight to the death.
And then there's Jamie. irresistible. off-limits. GOODREADS VIEW.
MY THOUGHTS: So I'm a little late to the #SparkArmy as the final installment of this series has just come out, but better late then never hey :-). I loved the idea of the DNA modifications and the agency responsible for the experiment gone wrong. For some reason I didn't connect much with some of the characters, but I'm sure I'll grow to love them more as I read the next book and the connected short stories. "FOUR I really enjoyed it, but needed more time to grow to love some of the characters STARS"
Graffiti Moon by Cath Crowley
Lucy is in love with Shadow, a mysterious graffiti artist.
Ed thought he was in love with Lucy, until she broke his nose.
Dylan loves Daisy, but throwing eggs at her probably wasn't the best way to show it.
Jazz and Leo are slowly encircling each other.
An intense and exhilarating 24 hours in the lives of four teenagers on the verge: of adulthood, of HSC, of finding out just who they are, and who they want to be.
A lyrical new YA novel from the award-winning author of Chasing Charlie Duskin and the Gracie Faltrain series. GOODREADS VIEW.
MY THOUGHTS: Why, oh why has it taken me so long to read something written by Cath Crowley, cause I'm an idiot that's why. This was a super duper cute and fun read, ending with the two main characters finding solace in each other and their art. It is the sort of story I could see myself reading again when I need a mental hug. FOUR "awwwwww artistic young love" STARS.
Doctor Who: Choose the Future: Night of the Kraken by Jonathan Green
When one choice can lead to triumph or failure, life or death, glory or destruction . . . which will you choose? With Choose the Future, YOU decide how, when, where and with whom the Doctor will fight to save the world!
In this brand new adventure, Night of the Kraken, the Twelfth Doctor meets a roguish time-smuggler and faces a terrifying creature from the deep with a plan to destroy the Earth.
The fate of the Doctor and the universe he protects are in your hands… GOODREADS VIEW.
MY THOUGHTS: I read this through once than turned around and read it again picking different answers, took about an hour. Published this year and listed as a young reader choose your own adventure, it is a super quick yet enjoyable read. I don't think I'd go out and buy the book, but If I come across more of the series at the library as they come out I will definitely borrow them. FOUR "a quick really enjoyable doctor who fix" STARS.
Oh f*** they're all Four Stars. Oh dear. Hahaha I only just realised that. Oh well.
Under the Graffiti Moon during the Night of the Kraken a Spark broke the ultimate Taboo – see what I did there with all the titles, huh huh.
Until next time 🙂 enjoy your shelves :-).