Oh wow, where do I start. I finished the last page of Disruption, made myself a fresh cuppa tea then opened up Corruption and continued Maggie's journey. It was 833 pages of utterly enthralling action. Let me calm down and try to break this down (without spoilers).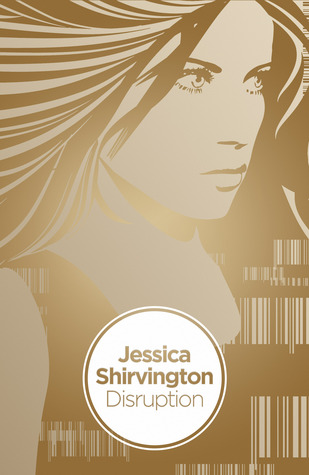 Disruption (Disruption #1) by Jessica Shirvington
What if a microchip could identify your perfect match?
What if it could be used against you and the ones you love?
Eight years ago, Mercer Corporation's M-Bands became mandatory. An evolution of the smartphone, the bracelets promised an easier life. Instead, they have come to control it.
Two years ago, Maggie Stevens watched helplessly as one of the people she loves most was taken from her, shattering her world as she knew it.
Now, Maggie is ready. And Quentin Mercer – heir to the M-Corp empire – has become key to Maggie's plan. But as the pieces of her dangerous design fall into place, could Quentin's involvement destroy everything she's fought for?
In a world full of broken promises, the ones Maggie must keep could be the most heartbreaking.
Published April 1st 2014 by HarperCollins. Goodreads View.
My Thoughts: Disruption sucked me in hard and fast. I wanted Maggie to succeed in her mission, all the while wishing more for her and her family. This books gives us blackmail, bad guy bullshit and sassy bitch brilliance. Maggie is a strong young woman that is not to be messed with. Maggie has worked hard to build up the skills she needs to succeed and she radiates a powerful darkness, but as the reader we get to see past the mentally disconnecting and physical conditioning she has created as her Armor to the real Maggie underneath, the broken soul who just wants to put things right. This book delivers us all the big game players, even if it doesn't reveal all their true field positions. There is a big plot twist late on and a cliff-hanger that will have you needing to get your hands on the next book.
Corruption (Disruption #2) by Jessica Shirvington
How do you live with yourself when you've deceived the one you love?
How do you move on when the person you've been fighting to save betrays you?
Two years ago, Maggie Stevens began the hunt.
Four weeks ago, Maggie's world fell apart, when she finally
found what she'd been looking for. And when Quentin,
who had blindly trusted her, unravelled her web of lies.
Now, Maggie lives in the dark. But she's not about to stay there.
Not when she still has to bring M-Corp down.
Not when there is still a chance she could win him back.
In the exhilarating conclusion to Disruption, Maggie must do
whatever it takes to show the world the truth.
And the price for her quest?
Everything.
Published November 1st 2014 by HarperCollins. Goodreads View.
My Thoughts: Corruption! I COULD NOT PUT IT DOWN. We really get to know the characters and they feel real, well they did for me. Gus, Maggie, Quin, Travis, Morris and Liam – I loved them all! Actually the character Gus reminded me of a friend of mine. The scary thing with this dystopian is that it really isn't that far-fetched. I've come to realise that the more, oh shit that could totally happen here in the next 10-20 years, a dystopian is the more I enjoy it. Hmmmm yet I love fantasy novels with dragons and trolls, yeah I have issues – ANYWAYS. This book has high stakes, high action, big plot twists, betrayal and forgiveness, world saving, love making (no sex scenes as such), corporate corruption and personal redemption. Maggie's life tidy's up nicely at the end, which is probably the most unrealistic part of the whole story, that and Quin's ability to forgive. But I LOVE HAPPY ENDINGS so it's all good. Well the ending is only as happy as it can be when a shit loads of innocent people have had to suffer and die along the way, but the bad guys get what's coming to them, so that's happy ever after enough for me.
The Disruption duology is going on my Recommend-to-everyone-list along with the The Tribe Series, The Medoran Chronicles, The Illuminae Files and anything by the fantastic Will Kotastis. #LoveOzYA people, love that OZ YA!