Chains of Water and Stone (Griever's Mark #2) 
Who is Logan's father? The question has been whispered behind his back all his life. He's ignored it, forced himself not to care, but when Belos starts demanding an answer to this very question, it takes on a new and disturbing significance.
As the race to answer this question begins, others rise in its wake, unearthing a mystery that could shake the very foundation of Earthmaker life, a mystery that could shake the whole world apart.
But Astarti has more immediate concerns. Logan is in grave danger, and she's desperate to get to him before he is destroyed–body, mind, and soul.
~ ~ ~ ~ ~ ~ My Thoughts ~ ~ ~ ~ ~ ~
I'm feeling like a teenage fangirl at the moment. I didn't want to put this book down and I enjoyed it even more than the first one.
I'm going to use a phrase I've only used once before in a review. Ship! As in; I totally ship Astarti and Logan. Actually the plain and frumpy 14-year-old that still resides inside my head wants TO BE Astarti.
In this second instalment we follow Astarti as she fights to free Logan from Belos, the man who was previously her captor. Logan and Astarti's love grows even more, with them finally admitting, damn the consequences, that they love each other. Their love is delicious and made me fell all warm and fuzzy inside.
Astarti finds a friend, helper and protector in Horik her father's champion warrior. I loved Horik becoming a major character in this book.
Once Astarti and Horik have freed Logan, we see the three of them partake in a quest for the truth behind Logan's parentage.
By the end of the book we have found out the truth about what Logan is and a power as old as time has fallen into dangerous hands. Kathrine has set herself up for an Epic third book.
This book has action, romance, revenge, mystic tales of old, destruction, family secrets, a world in turmoil, dancing, pub brawls, evil creepy old skeletal men, clashes between rival races, grandmother visiting, self-discovery, magic, mystery and mead.
I love the world Kathrine's has created. I love Astarti blending the elements of her earth with the energy of her soul. Actually I find both Astarti and Logan's powers beautiful and fascinating.
I've been trying to decide if this book would stand on its own or not. I think it would still be an enjoyable fantasy fling, but you need to read the first book first to get a grip on how evil Belos's is and where Logan and Astarti's love first began.
I received a review copy for the first book in this series, The Griever's Mark, from Kathrine. I liked it so much I pre-ordered this book as soon as it was available. But then I got so bogged down in review copies and other things I had scheduled, that I only recently got to finally read it. Since it took me so long to read number two I don't have to wait for number three. Unbound (Griever's Mark #3) has just been realised. Silver lining right there!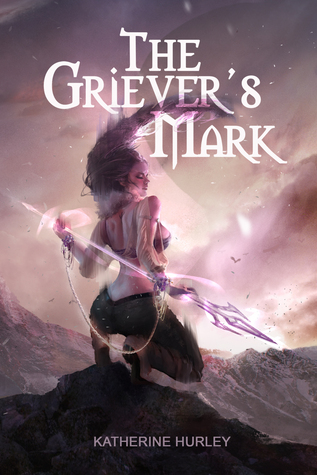 The Griever's Mark (#1)
Astarti's master controls her through a Leash, a bond of energy anchored deep within her. Despite being one of the few remaining Drifters, able to manipulate the energy world, she cannot break free. She knows her fate: she will serve until she dies, at which point her master will harvest her energy to augment his own.
Oh, yes, she's done some bad things in her master's name. She's not asking for forgiveness. She expects you to hate her.
What she doesn't expect is Logan, a man meant to be her sworn enemy. A man with secrets as dark as her own.
Unbound (Griever's Mark #3)
As the growing conflict forces Logan to embrace his newly discovered heritage, he fights to control a power he has long kept buried—a power that threatens everything he has tried to make of himself. Desperate to spare Astarti yet another burden, he tries to hide his crumbling control, but she has long since learned to recognize a lie. As Logan becomes a danger to himself and those around him, Astarti must find a way to help him, even if he doesn't want it.
Unfortunately, Astarti has other problems. Good and evil wear ever-shifting faces, the right course of action grows increasingly unclear, and the stakes are only getting higher. In this final installment of The Griever's Mark trilogy, Astarti must decide, once and for all, what she stands for–and what she is willing to sacrifice.
Want to know more about Katherine and her books: