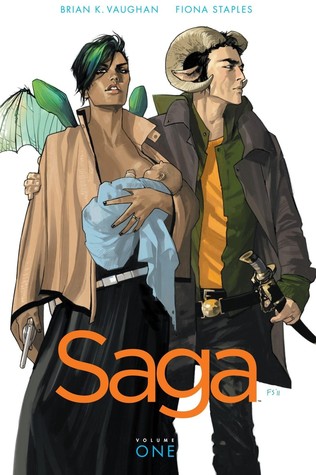 Saga, Volume 1 (Saga: Collected Editions #1) by Brian K. Vaughan (Writer), Fiona Staples (Artist)
When two soldiers from opposite sides of a never-ending galactic war fall in love, they risk everything to bring a fragile new life into a dangerous old universe.
Saga is the sweeping tale of one young family fighting to find their place in the worlds. Fantasy and science fiction are wed like never before in this sexy, subversive drama for adults.
* * * * * *   My Thoughts   * * * * * * 
Saga debuted in 2012. This 160 page paperback 'Saga Volume One' collects the first 6 monthly issues.
In these first six issues we see Hazel's birth, learn a back story for her parents romance and see her parent's constantly fighting to keep her alive and free. We are introduced to some key players; Hazel and her parents Marko and Alana, Prince Robot IV, The Will and Lying Cat – all setting up for a truly epic long running comic series. I'M EXCITED. I only wished I hadn't waited so long to get on board.
This comic series has action, humour, forbidden romance and a witty cross breed alien baby (Hazel) as the narrator. I would have to say it's the best comic I have ever read – sorry Batman, sorry Batgirl, sorry Starfire, sorry Scooby Doo, sorry Xmen, sorry Green Arrow, sorry Outcast, sorry The Walking Dead. Ok so you really can't compare most of those comics to one another, but you get my point.
This right here is an adult comic, and I'm not saying this because it's got a few inter species sex scenes. Underneath the battle, the bloodshed and the humorous respite, this is a story of a mother and father battling the odds and the universe to give their little girl the best life possible.
I read Frank Miller's Batman because I love bad boy heroes and vigilantes. I read Amanda Conner's Starfire because she fricking adorable and orange. With Saga I had the action and fighting the good fight of Batman and Starfire, plus more. I connected with the characters. By the end I wasn't just reading it for entertainment. I was reading it because I gave a shit about what happened to the world I had just entered.
I was enthralled from page one of issue one "Am I shitting? It feels like I'm shitting!" to the last page of issue six "And then my grandparents came to live with us".
Not to mention the artwork is stunning!
I'm hooked, good thing I've already got the next four collections ready to go. Issue #32 is out today, but if you're like me and prefer the compendiums over the single issues, it'll be four more months before the 'Saga Volume Six' is available.