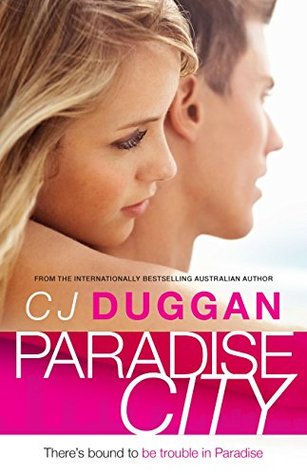 Paradise City (Paradise #1) by CJ Duggan
Pub Date 28th April 2015 (Hachette Australia)
I received an eBook ARC from Net Galley in return for an honest review – So Thank You CJ Duggan and Hachette Australia.
From the author of the bestselling Summer series, comes the first book in a seriously sexy New Adult series you won't want to miss. For fans of Abbi Glines, Sarah Dessen and Colleen Hoover.
There's bound to be trouble in Paradise . . .
When her parents decide a change will be good for her, seventeen-year-old Lexie Atkinson never expected they'd send her all the way to Paradise City. Coming from a predictable life of home-schooling on a rural Australian property, she just knows that Paradise will be amazing. But when she's thrust into a public school without a friendly face in sight, and forced to share a room with her insipid, hateful cousin Amanda, Lexie's not so sure.
Hanging out with the self-proclaimed beach bums of the city, sneaking out, late-night parties and parking with boys are all things Lexie's never experienced, but all that's about to change. It's new, terrifying . . . and exciting.
And when Lexie meets Luke Ballantine, the swoon-worthy, bad-boy leader of the group, the chemistry between them is electric. Trouble with a capital T, Luke is impulsive, charming and answers to no one, and he's sexier than any guy Lexie has ever known. Lexie begins to wonder if Luke is going to be good for her . . . or very, very bad?
Raise your left hand if you ever made an ass of yourself in high school. Now raise your right hand if you ever tortured yourself over a boy (or girl). Now give yourself a high five because you survived, maybe not unscathed, but you survived.
Oh how this book took me back. Duggan perfectly captures the – he likes me, he likes me not – torture teenage girls put themselves thought. Perfectly captures the hormone induced hysteria that growing up causes.
I loved how real Lexie felt. I wanted to be her friend, I wanted her to flourish and succeed. At some points it was if I was reading my own but better written teenage diary. I wanted to jump into the pages; slap Amanda, kick Ballantine up the bum and hug Lexie while offering her a big bowl of cookies and cream ice cream.
I love bad boys with soft and cuddly centers, love seeing their masks slip, love seeing them let their guards down. Every teenage girls dream is a bad boy that'll be good just for her. A naughty, cheeky, hot mess. A bad boy who's really not a bad guy – Boom! it's Ballantine.
A likable, relatable sheltered country girl. A grade A student who's been cooped up and restricted – and now, damn the consequences, she's going to find out what it's like to live – Boom! it's Lexie.
There are twist and turns and lessons to be learned. Family tensions, school detentions and late night rendezvous. A boy named Luke Ballantine and girl named Lexie Atkinson – Boom! an exciting, endearing and entertaining story.
Duggan's writing is beautiful; fresh, humorous, full of heartache and yet full of hope – A damn nice surprise in what can be a rather unbelievable, excessive and skanky genre.
I am internally chucking a full blown teenage tantrum that I have to wait until September to find out what happens next in the world of Lexie. Five Stars.
Goodreads – https://www.goodreads.com/CJDuggan
Website – http://www.cjdugganbooks.com/
Twitter – https://twitter.com/CJ_Duggan